Relevant Courses: RELI 405 Food, Sex, and Death in Judaism
Courses that touch on food topics: RELI 301 The Hebrew Bible, RELI 326 Ancient Judaism
Food-Related Research
One of my current projects focuses on the ancient Jewish construction of ritual. I raise questions such as: what is ritual? What does it accomplish, according to ancient Jewish sources? Why did ancient Jews do it, in their understanding? Much of the ancient ritual I study revolves around food. Ancient Jewish food ritual includes the biblical restrictions on types of meat that can be eaten, an elaborate system of ritual utterances before and after eating that classifies types of foods (especially produce), rules surrounding the slaughter and production of meat in sacrificial and non-sacrificial contexts, meal rituals for everyday meals and special festival meals, and tithing systems. A second project, an invited commentary for the Feminist Commentary on the Babylonian Talmud series, focuses on gender in ancient agricultural production and in the production of food, from sowing the fields to putting cooked foods—especially bread and olive oil—on the plate and serving them. In addition to my focus on ancient Jewish texts, I have a special interest in popular culture, and the representation of Jewish meals in film, television, and graphic novels.
Selected Publications
"Domestic Women: Constructing and Deconstructing a Gender Stereotype in the Mishnah."

 

In From Antiquity to the Postmodern World: Contemporary Jewish Studies in Canada, edited by Daniel Maoz and Andrea Gondos, 38-61.

 

Newcastle upon Tyne: Cambridge Scholars Publishing, 2011.
Special Recipe
Tzimmis
Tzimmis is a sweet and hearty dish especially for the Jewish Near Year and the Sukkot harvest festival. It is frequently paired with Briskit, though it itself is vegan. This is my own interpretation of my grandmother's recipe. My method of Jewish cooking, which I learned from my dad, is what is called the "shit arein" method, which in Yiddish means "pour it in." This can be interpreted in different ways, but what it means for me is that there are no exact measurements; rather one must use intuition (and smell) to ensure correct proportions and cooking time.
Ingredients:
3 yams/sweet potatoes

6–7 carrots

1 apple

6 prunes (aka dried plums)

¼ cup sugar

water
Instructions:
Peel yams and carrots. Cut yams into ½ inch cubes and carrots into ¼ inch rounds (i.e. small bite-size pieces). Place in pot. Yams and carrots should be in roughly even proportion. Peel and chop apple. Chop prunes. Add to the mixture. Mix up chopped vegetables and fruit to distribute evenly. Fill with water, to about ½ inch deep in pot. Pour sugar on top, stirring in slightly. Simmer for 15 minutes, and then raise to a low flame for a total cooking time of approximately 2 hours. You may stir occasionally within the initial 15 minutes, but do not stir subsequently to maintain vegetables intact.
Quotations:
"Abaye said: When I left my teacher's house and went to Rav bar Mari's house, they brought me sixty plates with sixty cooked dishes, and I ate sixty portions. And the last dish was called pot-cooked roast beef. And I wanted to chew on the plate when I finished it [it was so good]. As people say… 'There is always room for fine foods' [alternatively, 'There is always room for desert!]" -Babylonian Talmud, Megillah 7b
"May it be Your will that our good deeds will be many, like the seeds of a pomegranate." -Traditional recitation on eating pomegranate seeds on the first night of Rosh Hashanah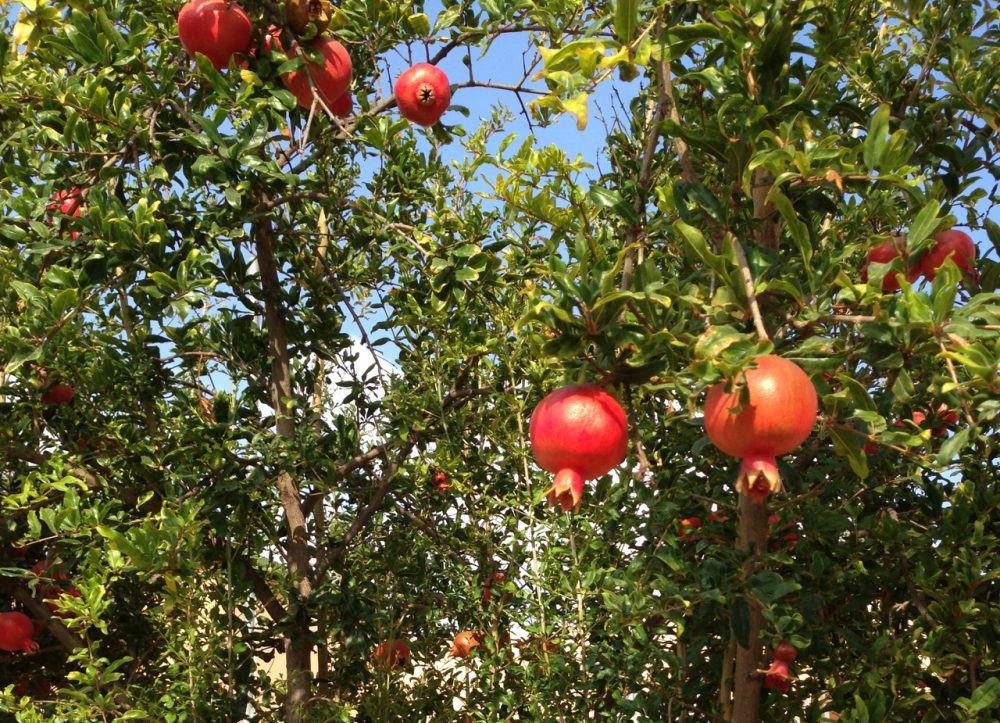 Pomegranates in the Netanya shuk. Photo by Zehava Cohn
"A woman may lend a coarse sieve, a fine sieve, millstones, and a stove to her friend who is suspected of inappropriately using produce of the sabbatical year, but she may not sift or grind together with her" -Mishnah (Rabbinic Legal Text, 2nd Century CE), Shevi'it 5:9

---